Choosing suitable valve bag is essential for proper bagging.
We will recommend the ideal combination of powder and facilities.



Open bag & Valve bag
Broadly, there are two main bag types :
the Open bag and the Valve bag.
The AMO bagging system is designed basically for the valve bag, although the multi-purpose open bag is widely used.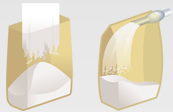 2016.11
POWTEX TOKYO 2016 (at TOKYO BIG SIGHT)
November 30th - December 2nd, 2016
VISIT OUR BOOTH (EAST 1st Hall, G-07 BOOTH)



2015.2

Nakashima Seisakusho Co.,Ltd has conclude with a selling agent in Korea ''WOO SUNG MAGNET CO.,LTD.''
Please check our basic information.



2006.01

Renewal open of our Homepage !!



2006.04

Nakashima Seisakusho Co., Ltd. has established a joint corpolation "BEIJING YANSHAN NAKAJIMA PACKAGING MACHINARY CO.,LTD.", with Beijing Yanshan Petrochemical Co.,Ltd. and Beijing Yanshan Funken Precision Machinary Co.,Ltd.
The new Company (President: Toshiro Minobe) located in Fang-shan District, Beijing, will start operation in August 2006.